Hello and Welcome!
A few decades ago I was born in Brazil, in the beautiful & lush green state called Minas Gerais.
​As a teenager I used to create a list of "small & easy" goals and some big goals to achieve
in the long run. One of my dreams was to travel abroad and live in another country. I had no idea how and when it would all happen, but I allowed myself to dream.
Growing up, I loved to draw, to create comics stories (teddy bear turned into a cool super hero !!), to write poetry, to read books that ignited my imagination, and at times I thought about becoming an astronaut, ​a scientist ​and even a "Formula 1" racer :-)
I didn't become a car racer, neither an astronaut (although I feel I am often experiencing an out in space reality), but I got a Bachelor degree in Computer Science, and at the age of 23 I left my hometown and venture out in other lands!
My first stop was São Paulo, where I worked as a Programmer/Systems Analyst, which was the groundwork for the bigger change that was to come about a year later.
As I was open to the experiences aligned with my soul, an opportunity to work as a Programmer in the US came up for me, so I packed my bags and moved to California. Did I mention that living abroad was one my dreams?
Life has taken delightful and challenging turns, and one of them led me to Reiki, which then led to many other significant experiences and people.
I perceive myself not defined by a single fixed definition because I believe I am (we are) constantly changing, evolving, expanding.
I seek what is beyond
the status quo, the manifestation of a new dream, a reality that suits my way of being.
There is magic in the present moment, where our power to create is, and in the present moment we also have the opportunity to savor what we've already created.
The overly chatty mind tends to keep us doubtful and fearful, and as we learn to connect with our inner-self, we start finding answers to our quests, to embrace what matter to us, to
discover (and create) who we are.
It might not be so easy sometimes, and although we can't control everything that happens around us, we are responsible for the choices we make and the habits/beliefs we develop; we also have the ability to make adjustments as we stumble over some rocks on the path. Rocks can be magical !
Each of us has a talent, a gift, a sparkle that allow us to contribute in our own way to the world that we live in. There is a saying "The meaning of life is to find your gift. The purpose of life is to give it away". Yes to that, and I also believe we are here to experience love and joy.
Even though life presents challenges and contrast to everyone, I think that even the unwanted situations can reveal a gift, help us refine our desires, create a new awareness, and it's up to us to recognize them and tune in to receive new and more desirable experiences.

Namaste.
---
A poem about me
I've walked on foreign roads, encountered the unknown...
I have followed in someone's footsteps…
and also left some footprints…
I've felt enlightened by inspirational quotes;
met inspiring people with inspiring behaviors.
I have experienced love, passion, attraction, rejection...
I have met kind souls,
distinct personalities,
the strong-minded...
I have tasted the sensational flavor of coffee,
Ice-cream, chocolate, and delightful kisses...
I have felt the rain on my face, in a hot summer day.
Listened to the pleasant sound of birds chirping
as I woke up in the morning.
I have seen sunsets and sunrises.
I have cooked a meal to someone special.
I have whistled along with a favorite song.
I have learned a second language,
Read books that were encouraging, uplifting, boring, dull...
I have been to many countries and met remarkable people
from different cultures, different places, unique worlds...
I have felt physical and emotional pain,
and laughed unstoppably with good friends.
I have felt fear and uncertainty.
I have challenged myself.
I had days to look forward to,
and dreams that came true.
My past has contributed to who I am today, but the past is gone
and it doesn't completely define me.
Each moment is filled with energy and
I feel connected to this magical Universe.
- Renata Lima
​
---
Powered by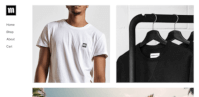 Create your own unique website with customizable templates.